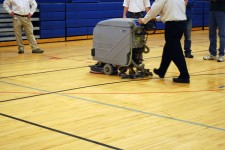 With the school year at a close, school maintenance teams are gearing up for their summer project work. One of the big projects every year on a maintenance director's to-do list is recoating or refinishing the wood gym floor. Many schools employ contractors to manage the dirty job of screening and the lengthy process of coating and curing the floor. With declining school budgets, many schools administrators have found themselves skipping their annual gym recoating projects because of the expense of outsourcing their gym floor work.
While this might save a school money in the short term, it also puts at risk one of the most expensive and valuable areas of any school; the wood gym floor. These floors are extremely expensive to install and repair and those without sound coatings to protect them are more likely to be damaged by the high traffic a typical school gym floor endures. As maintenance directors have looked for ways to protect their gym floors but lower costs, they've sought out gym finishes that allow them to minimize the time impact to their smaller staff. The challenge they face is their staff members often don't have the experience they need to properly apply a coating system. This is why hands-on education is so important; a well trained staff can prep and apply a gym floor coating with the speed and care of professional floor contractor for a fraction of the price.
Regardless of which gym floor system you choose, please consider the value and risk management that first-hand experience and education provides. We believe with its 15 year track record, Sport Kote is the finest gym finish on the market. It's easy to apply, requires no sanding or screening, allows you to put your gym back into service in just 24 hours and will last without question for at least a year. But we still like to make sure that any school staffers using Sport Kote are trained in the best practices for application. That's why we offer our FREE Sport Kote Seminars. We've done over 150 seminars since the start of 2012. We hold them all over the country and all year long, so if you are interested in Sport Kote, we'd love to have you attend a seminar so we can give you the tools you need to ensure the incredible performance Sport Kote offers. You can check out our website at www.sportkote.com for seminar dates and locations. If you can't find one near you in a timeframe that's convenient, please call us and we'll be happy to discuss having you sponsor your very own seminar. Sponsor schools have the product donated and applied by our own expert team for free. We only ask that you allow us to bring a few friends who also want to learn how to best apply Sport Kote. You can sign up to sponsor on the website as well or simply give us a call at 1.800.593.1021 x277.
No matter whose gym finish you choose (we hope you'll coat your gym floor no matter how tight things are), please be sure you and your staff are properly trained prior to beginning this important maintenance project. If you have questions about options for recoating your own gym floor this season, feel free to call us anytime at 1.800.593.1021 x277.
Team Sport Kote