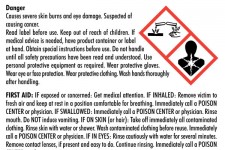 Floor Finishes and Sealers
Floor finishes and sealers are typically not classified as hazardous under OSHS HCS GHS and do not have pictograms. There are a couple products in this group that are classified as hazardous but in the lowest hazard class of irritant and with no pictogram.
Floor Strippers
Floor strippers are classified as hazardous and usually have the Corrosion pictogram. Other pictograms that may be included are the Flame (flammable or combustible) and Exclamation Mark.



Cleaners/Degreasers
Cleaners and degreasers are a diverse group of products and range from not being classified as hazardous with no pictogram to being classified as hazardous and having various combinations of pictograms, including an Exclamation Mark, Health Hazard, Flame and Corrosion.