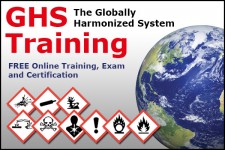 Under both the current and the new GHS training requirements, employers shall provide employees with effective information and training on hazardous chemicals in their work area at the time of their initial assignment, and whenever a new chemical hazard the employees have not previously been trained about is introduced into their work area.
Information and training may be designed to cover categories of hazards (e.g., flammability, carcinogenicity) or specific chemicals. Chemical-specific information must always be available through labels and safety data sheets.
Effective Training Dates
Employers shall train employees regarding the new GHS label elements and safety data sheet format by December 1, 2013.
All employers shall, as necessary, update any alternative workplace labeling, update the hazard communication program, and provide any additional employee training for newly identified physical or health hazards under the new OSHA HCS GHS regulations no later than June 1, 2016.