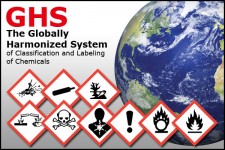 In the Spring of 2012, the Globally Harmonized System (GHS) was adopted by OSHA under the Hazardous Communication Standard. The GHS is a systematic way of classifying chemicals and standardizing the way MSDS and Labels are authored, and changes the way hazard information appears on a product.
Essential Industries is committed to each of the relevant GHS requirements and has already initiated its implementation plan. We wanted to make our stakeholders aware of our timeline for managing these important changes.
A comprehensive overview of the Globally Harmonized System and implementation requirements can be found at https://www.osha.gov/dsg/hazcom/.
There are several basic differences between current practices and GHS:
Use of Pictograms on both MSDS and Labels,
Stricter "rules" for the warning language that comes from the substances within a product.
Specified, detailed criteria for hazard classification of a product.
16 section MSDS (EI currently uses some 9 section MSDS's)
MSDS will be formally called SDS's.
General Deadlines for the Implementation of the New Standards:
By December 2013- All employees exposed to hazardous chemicals must be trained on the new MSDS (SDS) and Labels' appearance. They must understand these differences in order to assess products received from vendors or suppliers.
By December 2015- All labels and MSDS's (SDS) must comply with GHS standards and regulations. As authors of labels and MSDS's, Essential Industries will be responsible for revising thousands of SDS's and labels by this date.
Essential Industries' GHS Implementation Program:
Q1 2013:

Technology/Body of Knowledge

: Ensure that Essential Industries' MSDS(SDS) software is capable of producing compliant MSDS's (SDS) and labels based on GHS rules.
2013:

Implementation Process Group

: Assemble cross-functional team (IPG) tasked with developing an optimized plan for implementation.
2013:

Revision Protocol

: Establish a process of by which products or product groups will be revised. The goal will be to minimize negative impacts on customers and optimize change efficiency internally.
December 2013-

Employee Training

: Regulatory Department to have trained all Essential Industries' employees on the differences they will see in labeling and MSDS (SDS), and ensure employees understand these differences. One of the key goals of adoption of this standard by OSHA was to make it "easier" for the average person to understand the hazards of a product. We believe this will be the case.
2013-2015

Implementation and Completion

: Implement conversion plan and complete compliance.