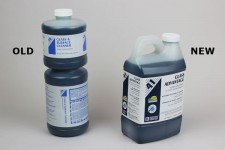 At Essential, we continuously evaluate our customers' needs against our current products and services. We strive to provide the greatest product efficacy for our customers' money.
To that end, we have converted the chemistry in our System 2000 products to our high value, and highly effective DCS chemistry. As a part of that change, we also changed the product bottles from our older 1900ml round bottles to a ½ gallon bottle. These new bottles have been sized to fit our existing equipment and standard connections. The System 2000 equipment remains unchanged and we will continue to sell these products indefinitely.
The chart below indicates which old System 2000 products correlate to the new and current DCS chemistries for your reference. We WILL continue to sell the System 2000 chemistries and packages until our current inventories deplete. Please contact customer service for availability. We are excited to offer these improved products to you and hope you'll take advantage of their availability in this tried and true program.
System 2000 Replacement Products
(Part code and description followed by replacement product)

2201SC-19CL EI #2 Restroom Cleaner
Replace with 2743SC-HG4
2203SC-19CL EI #3 Glass Cleaner
Replace with 2741SC-HG4
2204SC-19CL EI #8 Heavy-Duty Spray Cleaner
Replace with 2742SC-HG4
2206SC-19CL EI #4 Neutral Cleaner
Replace with 2746SC-HG4
2210SC-19CL EI #5 Non-Butyl Degreaser
Replace with 2747SC-HG4
2215SC-19CL EI #15 Smoke Out Odor Counteractant
Replace with 2745SC-HG4
2216SC-19CL EI #16 Potpourri Odor Counteractant
Replace with 2745SC-HG4
2224SC-19CL EI #14 Glass & Surface Cleaner
Replace with 2741SC-HG4
2319SC-19CL EI #7 Restroom Cleaner and Disinfectant
Replace with 2750SC-HG4
0256SC-19CL EI #1 Quat 256
Replace with 2749SC-HG4 or 2750SC-HG4
2741SC-19CL EI #41 Glass Advantage
Replace with 2741SC-HG4
2742SC-19CL EI #42 Ultra Spray Cleaner
Replace with 2742SC-HG4
2743SC-19CL EI #43 Daily Restroom Cleaner
Replace with 2743SC-HG4
2744SC-19CL EI #44 Heavy-Duty Restroom Cleaner
Replace with 2744SC-HG4
2746SC-19CL EI #46 Neutral Cleaner Plus
Replace with 2746SC-HG4
0425SC-19CL EI #12 Citrus Scrub 'N Shine
No Replacement – use 425 or 4515 in T&P package
0605SC-19CL EI #9 Foaming Restroom Cleaner
Replace with 2743SC-HG4 or 2744SC-HG4
0702SC-19CL EI #10 Neutral Germicidal Cleaner
Replace with 2749SC-HG4
705SCC-19CL EI #10 Neutral Germicidal Cleaner
Replace with 705SCC-HG4 (Canada Only)