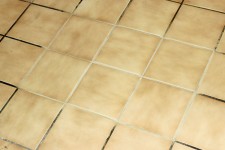 On June 1, 2012 Essential Industries' launched its Grout Care program. The system is comprised of Grout Avenger (#299RR) and GPS – Grout Penetrating Sealer (#288RR). Our tests produced optimal results using our Blue Concentrate (#2085) or Blue Concentrate SC (#4085) as a general cleaner, Grout Avenger to treat the grout and GPS – Grout Penetrating Sealer to protect the grout.
If you haven't used it, Grout Avenger is impressive. It dramatically lightens grout even on the most heavily soiled and stained tile. We tested it on our plant restroom and you could see and smell the rapid detergent action and the "lifting" of soils and stains from within the grout matrix itself. The grout was dramatically lighter after just a quick cleaning.
GPS – Grout Penetrating Sealer has excellent sealing and acidic and basic resistance properties. It uses the same "back-bone" as our most powerful stone sealer which is why is has such excellent durability in adverse, moisture rich environments. The focal chemistry involves a compound attached to the acrylic polymer which reacts and chemically (permanently) bonds to the grout on contact. This self cross-linking activity effectively seals off the pores of the grout blocking out soil and stains.
Grout System FAB's: Features, Advantages and Benefits