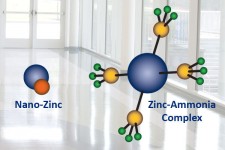 At Essential Industries, we specialize in designing and engineering polymer technologies for the floor coating and maintenance industry. Recently we were awarded a patent for our X-Coat Nano™ floor finish (U.S. Patent No. 8,236,903). This revolutionary finish eliminates large ammonia complexes from floor finish and replaces them with "nano" zinc molecules. Because X-Coat Nano doesn't have high ammonia content it provides extraordinary soil resistance, quick gloss build and rapid cure times.
Soil Resistance
Because it doesn't need ammonia complexes to cross-link, the gaps between the finish polymers are very small which allows the finish to product networks of high density cross links in the finish. This leaves very little space between the polymer strands for dirt to penetrate.
Rapid Gloss Build
Having very little ammonia content allows X-Coat Nano to build gloss quickly because the ammonia doesn't act like a stripper and emulsify the undercoats when applied. This emulsification is apparent when the existing finish underneath turns hazy when coated with more finish. This hampers gloss build. With X-Coat Nano, the underlying coat never hazes and gloss is able to build uninterrupted. With continuous gloss build, X-Coat Nano delivers a crystal clear, diamond-bright coat every time.
Fast Cure Time
X-Coat Nano dries more quickly without high ammonia levels as well. The polymers are able to self cross-link rapidly because the zinc is already chemically bolted to the finish polymers so the polymers don't have to work to find one another and cross-link. This creates very short cure times; X-Coat Nano dries in 15 minutes under normal conditions. This allows you to complete larger jobs quickly which saves you time and money.
For more information, please watch the following informative video that further explains the chemistry behind X-Coat Nano's amazing gloss build, enhanced durability and superior black mark resistance…