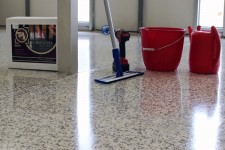 In March of 2013, we coated 50% of the terrazzo floors in a large high school in Milwaukee with 3 coats of T-Rx Complete Terazzo Coating. Our goal was to watch the floor for 1 year and assess its overall performance in high traffic conditions.
INITIAL APPLICATION
Site Conditions:
The terrazzo is Portland cement-based and colored (pink, green and white). The floors range in age from 40-70 years. The colors were dark and muted prior to product application.
After prepping the floors, we applied 3 coats of T-Rx Complete Terrazzo Solution, following application instructions. Maintenance was limited to daily cleaning with Blue Concentrate (2085FC). No buffing or polishing was done.
6 MONTHS
Gloss on all floors diminished slightly but still high in most areas. No scratches, marking or staining on the floors. Floors near exterior entryways showed lower gloss than the rest of the floors, but the coating was fully intact in all areas.
12 MONTHS
All of the coating was still intact and remained free of marking and staining. There was some light scratching near entryways, but no signs of damage from ice melter or mats.
The 12 Month Recoat:
50% of the areas were recoated with 2 coats of T-Rx.
25% of the areas needed no additional coating. These areas were cleaned and polished quickly with a 6,000 grit diamond pad. Customer will reevaluate quarterly for recoat.
The Recoat Process:
Clean the floor with Blue Concentrate (2085FC) and a red or blue pad.
Propane or buff the floor with 6,000 grit diamond polishing pad
Dust mop and rinse
Apply 2 coats of T-Rx
Propane again with a 6,000 grit diamond polishing pad