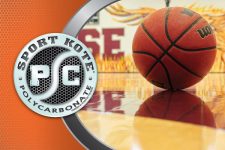 At Essential Industries, our founding principle is performance through innovation. And now, through continued research and ambitious ground-breaking advancements, we have engineered Sport Kote PC, the next generation of water-based wood floor coatings.
What's different about Sport Kote PC?
EVERYTHING…and nothing.
Sport Kote PC still delivers:
Easy, dustless prep – no sanding or screening required
Single-component, just pour and apply
Adheres to ANY sound gym flooring
Fast dry time
Low odor
The Sport Kote Promise
With its remarkable shine, unsurpassed durability and money and time saved, Sport Kote PC offers everything you've come to expect from Sport Kote and MORE!
It's made with Polycarbonate, the same material found in the bullet proof canopy of the U.S. Military's new F-22 Raptor fighter jets.
That means big gains in:
Durability
Scuff resistance
Scratch resistance
Depth of gloss
Gloss longevity
Sport Kote PC is the next generation in wood floor care excellence!