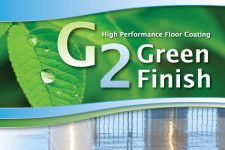 At Essential Industries, we believe innovation is essential. Being aware of the growing need to offer superior floor care with less environmental impact, we focused our efforts on going green. This dedicated research and development led to a breakthrough in green floor care. We engineered an environmentally-responsible floor finish that performs with the same excellence in gloss and durability that we pride ourselves on throughout our traditional floor care line.
No longer do you have to sacrifice performance to meet green standards. G2 Green Finish is an industry-leading coating that will astound you with its performance. From its ease of application (and low odor) to its brilliant gloss and unmatched durability, you will swear you are applying a non-green, high-performance coating.
G2 Green Finish is a Green Seal™ certified, high solids floor finish and sealer. It protects and beautifies all floors, including vinyl tile, terrazzo and stone substrates. G2 Green Finish applies easily, dries quickly to a high gloss and repairs easily. It is for use with all maintenance systems, including no-buff, spray buff and high speed burnishing.
And, because we're aware that you are as concerned with your floor's safety as you are with its appearance, G2 Green Finish has been formulated to meet the following standards:
UL-certified for slip resistance
Ultra-low 1% VOC content
Green Seal™ Certification
G2 Green Finish is excellence in environmentally-responsible floor care.