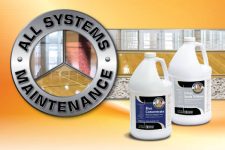 Are you responsible for maintaining…
Resilient Floors?
Wood Floors?
Terrazzo Floors?
Are you tired of needing a different cleaner and restorer for each one?
Essential Industries, Inc. proudly offers our ALL SYSTEMS Maintenance Solution!
Blue Concentrate and Citrus Scrub 'N Shine are not only safe, but effective and a cost efficient way to clean and restore your resilient, wood, and terrazzo floors. For over 20 years, these products have been the backbone of Essential's floor care maintenance procedures.
Blue Concentrate is easily the best and most versatile cleaner on the market with results that are unmatched by the competition. Everything from stripper and ice melting residue to hard water spots and stubborn soil on any surface is removed. Its unique formulation eliminates the need for multiple rinses and ensures the best clean, the first time.
Citrus Scrub 'N Shine uses simple but unique technology that offers a multitude of application options. This inexpensive restorer is the ultimate remedy for any floor finish issue you may have including ghosting, dulling, and blemishes in the finish. As long as there is finish on your floor, Citrus Scrub 'N Shine can resuscitate ANY floor to like-new gloss while also raising the slip co-efficient for increased safety.
These products are cost efficient, extremely effective, and they are safe for not only your resilient floors, but also your wood and terrazzo floors.
ALL SYSTEMS maintenance is floor care…simplified.